Buildings and their processes account for roughly one half of all energy consumption. When the energy required to produce, deliver and assemble materials for the construction of the buildings is included, the total impact far surpasses that amount.
For developed countries to continue to enjoy the comforts that are taken for granted, and for the developing world to ever hope to attain them, sustainability must become the cornerstone of our design philosophy.
Rather than merely using less of the non-renewable fuels and creating less pollution, we need to design sustainable buildings that rely on renewable resources to provide most, and eventually all, of their own energy needs and eliminate pollution and
carbon emission.
Interest in the building of integrated photovoltaics (known as BiPV), where the PV elements are integral to the building, often serving as the exterior weathering skin, is growing worldwide. PV specialists from several countries have been working for several years to optimise these systems and architects in Europe, Japan, the United States and Australia are now beginning to explore innovative ways of incorporating solar electricity into their building designs.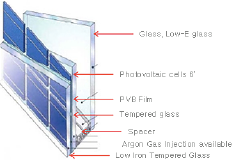 BiPV has many additional benefits:
The building inself becomes the PV support structure

System electrical interface is simple and reliable

BiPV components displace conventional building materials and labour, reducing the net installed cost of the PV system

On-site generation of electricity offsets imported and often more carbon-intensive energy Architecturally elegant, well-integrated systems will increase market acceptance BiPV systems provide the building owners with a highly visible public expression of their environmental commitment
SolarGy offers complete BiPV solutions from design of the BiPV facades, skylights, shading, etc to system integration of the PVs to the building's electrical system. We can work with our Client's architects to develop the BiPV from their intial concepts to implementation. We also work in partnership with curtainwall specialists to offer complete curtainwall with BiPV solutions, so that our Clients have a peace of mind with single contractor/vendor responsibility for the total performance of the BiPV façade.
Our in-house CAD specialists are equipped to produce detailed construction drawings for BiPV facades for your architect's approval prior to production and implementation. Prior to submission, our in-house architectural integrator would scrutinise these production/shop drawings. This process of drawing review and approval are very crucial for successful site implementation.