2019
Still wondering what is BIPV?Hear it from Minister Lawrence Wong who delivered an enlightening message on BIPV.
The PV System at the Mandai MRT & Bus Depot is finally turned on after 15 months of design and installation that demands very high standards of quality, reliability, and most importantly safety. Through the close collaboration with LTA's team of technically competent engineers, SolarGy's experience has taken a big leap. We are now in good stead to solarize several more huge MRT depots but we will not rest on our laurels. We will continue to innovate and improve on safety and reliability.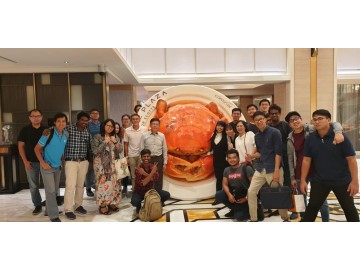 This evening, the staff of SolarGy get together to celebrate the company's 12th Anniversary. Since 2007, we have witnessed the transformation of the solar energy landscape from miniscule kWp to truly large scale ones. SolarGy has done a fair share in the engineering and execution of these solar energy projects, be it large or small, but most importantly we are helping to fight climate change. Since 2007 the systems installed by SolarGy have generated about 85 million kWh of green energy, reducing carbon emission by some 44,000 tons. As the uptake of solar energy continue to grow, it is important to ensure quality and reliable installations that can last as long as the power warranty of the solar panels. In the spirit of fighting climate change, solar adopters must take responsibility to carefully select their system integrators (or EPCs) so that the solar PV systems produce good yield for many years to come and worst of all, they should not degrade beyond expectations that lead to severe loss of green energy, which then defeats the purpose of switching to green energy. As our team of solar engineers continue to grow and gain invaluable experience in the solar space covering rooftop PV, floating PV and BiPV/BaPV installations, we remain committed, as we have always been, to share our knowledge and experience with all our existing and potential customers. We believe this approach will help customers to fully understand the simplicity of PV systems, overcome any fears or misconceptions be it from technology to regulatory perspectives.